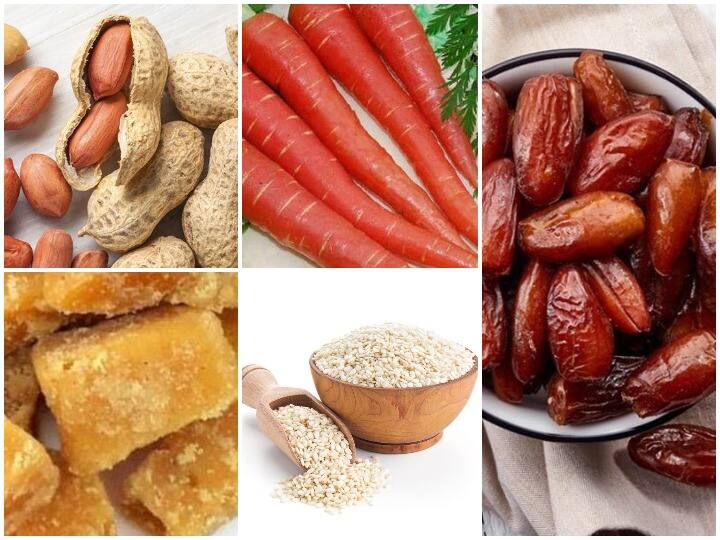 Winter Best Food: Winters are the best season for fitness. In winter, there are plenty of green vegetables, salads and fruits. Different types of vegetables are available in the market. In such a situation, you should plan your diet and food. On the other hand, to avoid cold in winter, you should make some such things a part of your diet so that the body remains warm. You must have heard grandmothers asking them to eat jaggery and sesame seeds in winter. Actually both these things give relief from cold. In winter, there are many such things which bring energy and heat to the body. You must include these 5 things in your diet.
1 – Dates – You must consume dates in winters. Vitamin A and B are found in plenty in dates. Dates are hot in nature, which gives relief in cold. Due to this our body remains warm from inside. Dates also contain a good amount of Phosphorus, Potassium, Calcium, Magnesium and Fiber.
2 – Jaggery – Jaggery must also be eaten in winter. Jaggery is very beneficial for stomach and body. Metabolism remains good by eating jaggery. Jaggery is also very beneficial for digestion. Jaggery contains iron, which reduces problems like anemia. Jaggery brings warmth to the body in winter.
3 – Sesame Seeds – To keep the body warm in winter, you should also consume sesame seeds. Sesame seeds are both white and black. The effect of sesame is hot, so eating sesame in cold is beneficial. Mono-saturated fatty acids and anti-bacterial minerals are found in sesame seeds. Due to which the body gets many benefits.
4 – Carrot – As soon as winter comes, red-red carrots are available in the market. Carrots are also beneficial for heart, brain, nerves and overall health. Vitamin A, B, C, D, E, G and K are found in carrots. Carrots are rich in Vitamin A which is very beneficial for the eyes.
5 – Peanut – In winter, you will see peanuts being sold everywhere. You must eat peanuts. Along with protein and healthy fat, many vitamins and minerals are also found in it. Peanuts contain Manganese, Vitamin E, Phosphorus and Magnesium. Cholesterol is also controlled by eating peanuts.
Disclaimer: News Daily India does not confirm the methods, methods and claims mentioned in this article. Take these only as suggestions. Before following any such treatment/medication/diet, consult a doctor.