[ad_1]
New Delhi. It seems that the list of dissatisfied leaders in Congress is continuously increasing. Now Congress leader and former MP Sushmita Dev has resigned from the party. After his resignation, senior Congress leader Kapil Sibal took a jibe at his party. He has said that the youth leaders are leaving and the eyes of the party are closed. Let us tell you that the name of Kapil Sibal is among the 23 dissatisfied leaders who wrote to Sonia Gandhi last year about major changes in the party.
The Rajya Sabha MP tweeted and wrote, 'Sushmita Dev has resigned from the primary membership of our party. When young leaders leave, we 'old men' are to blame for our efforts to strengthen it. The party is moving ahead with its eyes closed.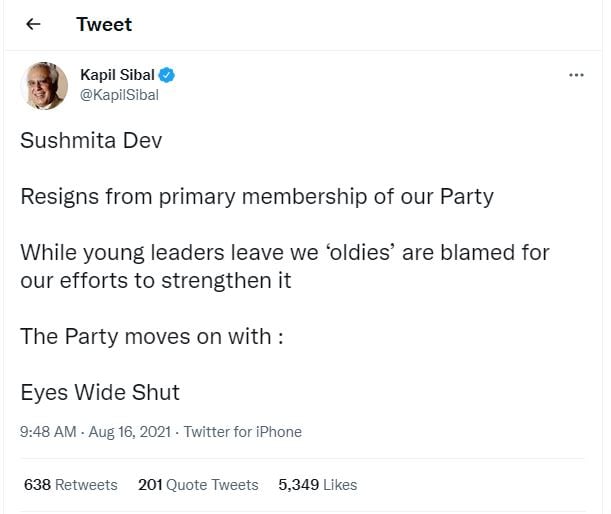 Kapil Sibal's tweet
Congress sources said that Sushmita, who was serving as the president of the All India Mahila Congress, sent her resignation to party chief Sonia Gandhi on August 15. Sushmita made no mention of the reason for leaving the party in her resignation letter, though she thanked Sonia Gandhi and the party leadership for the guidance and support she had received as she resigned from the primary membership of the Congress. Sushmita said, 'I hope your best wishes will be with me when I am going to start a new chapter in my life of public service'.
She has been a Lok Sabha member from Silchar in Assam. There is currently no clear information about her next political move, although some sources close to her say that she may join the Trinamool Congress. After resigning from Congress, Sushmita changed some information related to her profile on her Twitter account. She has written 'former member of Congress' and 'former president of All India Mahila Congress' in her profile. Sushmita Dev's father Santosh Mohan Dev was a senior Congress leader and was also a minister at the Centre. (with language input)
[ad_2]