James Cameron released the teaser of 'Avatar' sequel 'Avatar: The Way of Water' in May. The 105-second teaser gave a glimpse of the film. The fans of this film are eagerly waiting. Now the first look of actress Kate Winslet, who played an important role in this film, has now been revealed. Actress Kate's look has been veiled on the exclusive cover page of 'Empire Magazine'. Fans are impressed by the first look of Kate Winslet as a Navi warrior.
In 'Avatar: The Way of Water', Kate Winslet will be seen in the role of a warrior named Ronal. Hollywood's popular actress Kate will be seen in a dangerous form with big eyes and big teeth. The makers of 'Avatar' have presented him in a different style in the sequel of this film. Kate was also seen when the trailer of this film came out in May, but no disclosure was made about her look. Kate's look in a new style has increased the interest of the fans.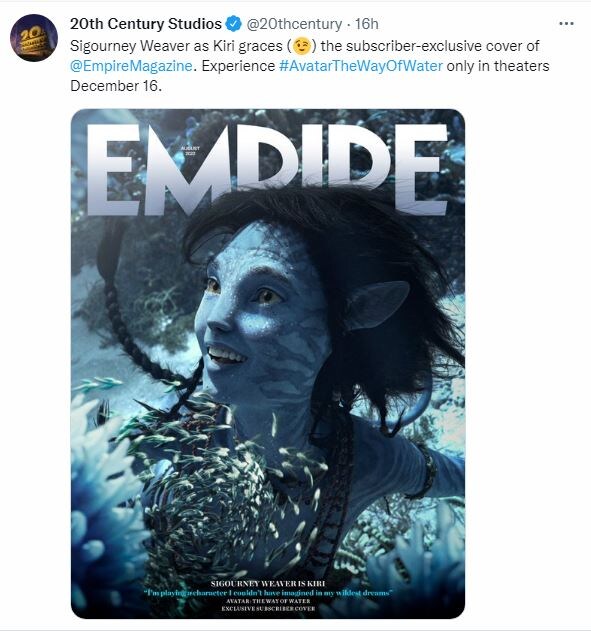 James Cameron-Kate Winslet together after 26 years

The sequel of 'Avatar', which came in the year 2009, was announced at the same time but it took James Cameron about 13 years to bring its sequel. James and Kate Winslet are back together after 26 years. In an interview, Kate had told that 'for this film, I have learned the art of holding my breath for a long time under water'. Fans have already become desperate to see the actress of the famous film 'Titanic' in a new way.
Will release on 16 December 2022

Apart from Kate Winslet, 'Avatar: The Way of Water' stars Sam Worthington, Joe Saldana, Stephen Lang, Michelle Rodriguez, Vin Diesel. This James Cameron film will be released in theaters on 16 December.