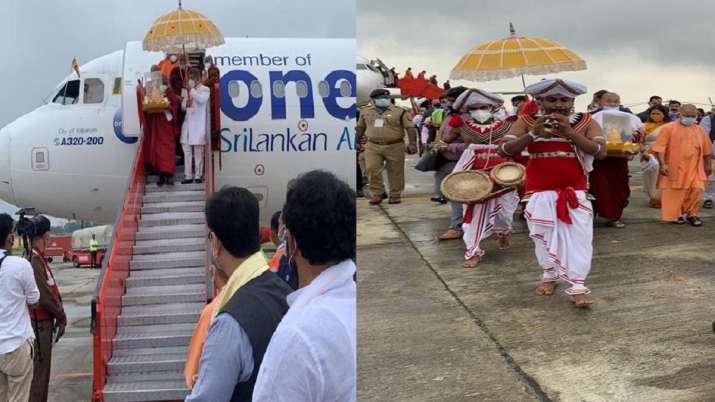 Kushinagar. Prime Minister Narendra Modi inaugurated the International Airport in Kushinagar today. Earlier, a special Sri Lankan plane landed at Kushinagar International Airport. A Sri Lankan delegation of more than 100 Buddhist monks and dignitaries reached Kushinagar in this aircraft. The delegation, which reached Kushinagar by plane, includes the Anunayaka (Deputy Head) of all the four Nikats of Buddhism in Sri Lanka, Asgiriya, Amarapura, Ramanya and Malavatta, besides five ministers of the Sri Lankan government led by the Cabinet Minister Namal Rajapaksa. All these people were given a grand welcome in Kushinagar.
Performed a ceremonial worship on the arrival of the Sacred Buddha relic from Sri Lanka on the occasion of Ashwin Poornima

Also welcomed Buddhists Monks on their arrival.

The exposition of Holy Relic will take place during celebrations of Abhidhamma Day today at Kushinagar, UP. pic.twitter.com/Edzd3dmonW

— G Kishan Reddy (@kishanreddybjp) October 20, 2021
PM offers prayers at Mahaparinirvana temple
Let us tell you that after the inauguration of the International Airport in Kushinagar, Prime Minister Narendra Modi offered prayers at the Mahaparinirvana Temple. Prime Minister Narendra Modi also donated a chiver to Lord Buddha. During this, Governor Anandiben Patel and Chief Minister Yogi Adityanath were also present with him. In Kushinagar he also visited the exhibition of Ajanta murals, Buddhist Sutra manuscripts and Buddhist artifacts from the excavations of Vadnagar and other sites in Gujarat.
'Development of Kushinagar in the priorities of Uttar Pradesh and Central Government'
Addressing the people after the inauguration of the airport, the Prime Minister said that India is the center of reverence, faith and inspiration for the Buddhist community around the world. Today, this facility of Kushinagar International Airport is in a way a wreath paid to his reverence. He said that in order to develop the places associated with Lord Buddha, for better connectivity, special attention is being given by India today on the creation of facilities for the devotees. The development of Kushinagar is one of the priorities of the Uttar Pradesh and Central Government.