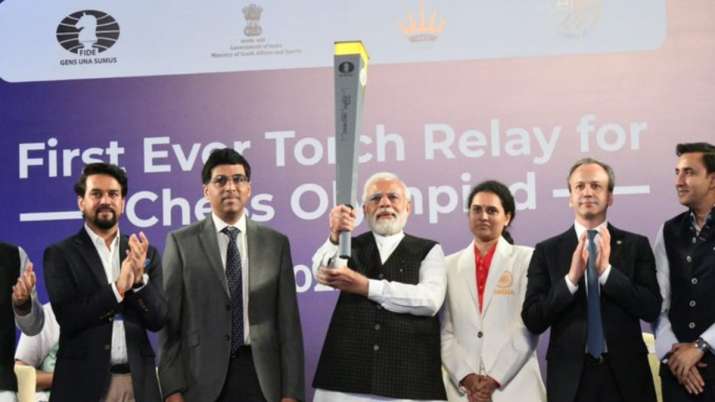 Prime Minister Narendra Modi inaugurated the torch relay of 44th Chess Olympiad. He launched this relay at Indira Gandhi Stadium in Delhi. Torch relay is being organized for the first time for Chess Olympiad. The special thing is that it started in India under the leadership of Prime Minister Modi.
PM Modi launches Chess Olympiad Torch Relay
SUPER PROUD AND HAPPY!!🔥
First ever torch relay for Chess Olympiad inaugurated by PM Modi Ji.

From now onwards Torch will go to wherever Olympiad will happen, from India every year.
Chess finally getting attention it deserves.
And Vishy taking the torch❤️🔥
Just the beginning pic.twitter.com/AlfLgGz0so

— Invisible (@thepathakarpit) June 19, 2022
Inaugurating the Chess Olympiad Torch Relay, Prime Minister Narendra Modi said that India is hosting this game for the first time. They are proud that this sport is leaving its birthplace and leaving its mark all over the world. Linking this occasion with the 75th year of India's independence, he said that since Amrit Mahotsav is being celebrated, the Chess Olympiad torch will visit 75 cities of the country.
Chess Olympiad torch relay will start from India every year
On this special occasion, Prime Minister Modi shared another good news with sports lovers. He told that the International Chess Federation has decided that every year the torch relay for Chess Olympiad will be started from India itself. The honor of India has increased due to this decision of the Federation. PM Modi thanked the International Chess Federation for this.
What a great sight. Prime minister and GM Koneru Humpy face to face around a chess board. The Chess Olympiad Hype is Real! Torch Relay Event in Progress pic.twitter.com/wMpLZkEMsA

— Sahil Tickoo (@chess_assist) June 19, 2022
PM Modi started the event by playing chess
Prime Minister Narendra Modi also played chess with Grandmaster Koneru Humpy during the launch of the torch relay of the Chess Olympiad. Hampi has won the gold medal in the 2020 Chess Olympiad.
Flashlight of Chess Olympiad will pass through 75 cities
The torch relay of the Chess Olympiad will travel across 75 cities in India, culminating in Mahabalipuram on July 27. After this, the Chess Olympiad will begin in Chennai on July 28 in which more than two thousand players from 188 countries will participate. Its final and final match will be played on 10 August.