[ad_1]
Coronavirus India: The second wave of deadly corona virus continues in the country. In the last 24 hours, 35 thousand 499 new cases of corona virus have been reported in the country. At the same time 447 people died. Now the number of active cases in the country is four lakh two thousand 188. The recovery rate of the country has now increased to 97.40 percent.
How many doses of vaccine have been taken so far??
According to the latest data released by the Ministry of Health, till 7 pm on Sunday, people in the country have received 50 crore 68 lakh 10 thousand 492 vaccines of corona vaccine and out of which 55 lakh 91 thousand 657 doses have been given in a day. .

How many tests have been done in the country so far?
The Indian Council of Medical Research (ICMR) has said that 13 lakh 71 thousand 871 sample tests were done for corona virus in India yesterday. After which a total of 48 crore 17 lakh 67 thousand 232 sample tests have been done till yesterday.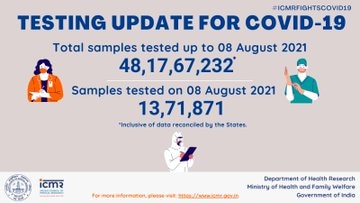 Vaccination certificate now available on WhatsApp
Union Health Minister Mansukh Mandaviya has told that those who have got the Kovid-19 vaccine, they can now get their certificates within a few seconds from WhatsApp. At present, people have to download their vaccination certificate by logging in to the COVIN portal. Save the contact number +91 9013151515. Send it by typing 'covid certificate' on WhatsApp. Enter OTP. Get your certificate within few seconds.
[ad_2]