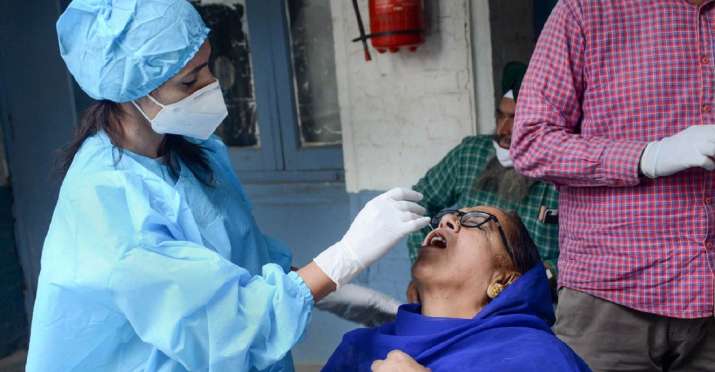 Thiruvananthapuram: The death of 117 people infected with the corona virus was confirmed in Kerala on Monday, while 3382 new cases of infection were found. According to a release, the total cases in the state have gone up to 51,25,262 while 39,955 people have lost their lives due to the infection. On November 28, 4350 new cases were confirmed in Kerala. According to the release, 5779 people have recovered from the infection on Sunday, after which the number of people who have become infection free has gone up to 50,51,998. The number of patients undergoing treatment for infection in the state has come down to 44,487.
According to the release, in 14 districts COVID-19 Ernakulam has the highest number of 666 cases. After this, 527 infected have been found in Thiruvananthapuram and 477 in Kozhikode. The release said that out of 117 deaths, 59 have occurred in the last few days, while 58 deaths have been treated as Covid deaths after appeals received on the basis of the guidelines of the Central Government and the directions of the Supreme Court.
Meanwhile, the Center told the Kerala High Court that Saudi Arabia has lifted the ban on passengers coming from India. The Center gave this information to the court during the hearing of a petition by a person. The petitioner had requested for the third dose of the internationally accepted vaccine so that he could go back to the Gulf country for work. This person has had two doses of Covaccine. This vaccine for Kovid-19 was not previously recognized by Saudi Arabia.
The man had filed a petition in the High Court requesting the state and the Center to direct him to administer the third dose of an internationally recognized vaccine like Covidhield. The petitioner was working as a welder in the Gulf country before the outbreak of the COVID-19 pandemic. The High Court had earlier asked the Center whether the government was not duty-bound to redress the grievance of a citizen who loses his livelihood due to the state-imposed vaccine.
The central government on Monday told Justice V.V. Kunhikrishnan that Saudi Arabia has withdrawn its travel ban imposed on India and hence the petition has become infructuous. Taking cognizance of this contention of the Center, the court disposed of the petition. Let us tell you that on November 2, the High Court had said that the vaccination plan of the Center has created two classes of citizens in India – one who has received the dose of the vaccine and whose movement is limited and the other, those who have got the coveshield. And who can go anywhere.