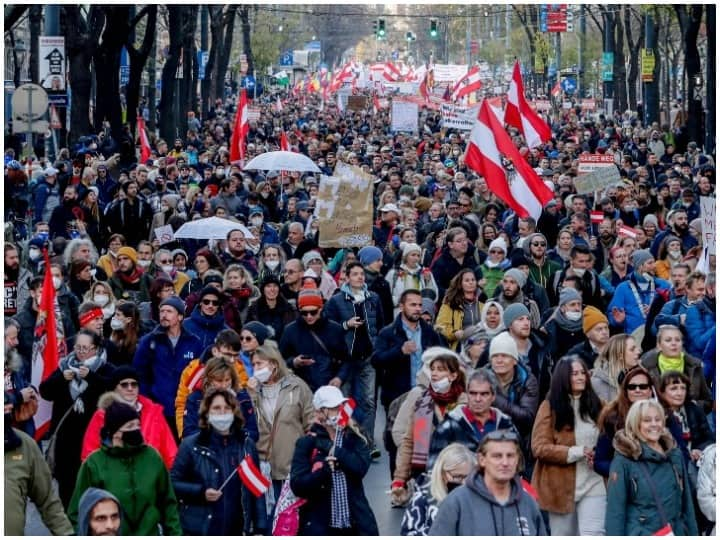 Covid-19 Pandemic: Amidst increasing cases of corona in Western Europe, a lockdown has been announced in Austria amid violent demonstrations. Austria is currently battling a new wave of Covid-19 infection. In such a situation, it has become the first country in the European continent to impose a complete lockdown. Apart from this, Austrian Chancellor Alexander Schellenberg has also announced compulsory vaccination in his country from February. Shops, restaurants and festive markets were closed on Monday amid rising cases of Kovid infection. Austria's total population of 8.9 million now does not allow any citizen to leave the house except for very essential things such as going to work, gym and shopping for essentials.
Children's schools and kindergartens have been kept open in this mandatory three-week lockdown. However, his parents have been requested by the government to keep him at home. This decision of the government's lockdown has come at a time when thousands of people are demonstrating on the street in major cities of (Europe) such as Belgium and the Netherlands amid rising Kovid cases in the European continent. In the midst of escalating Covid demonstrations, about 145 people have been arrested within three days out of about 35,000 people who came out in protest against the Kovid curfew implemented in the Netherlands. Water cannons and tear gas shells were fired at people during Sunday's protests in Brussels.
At the same time, in the Austrian capital Vienna, a crowd of citizens protested against the Kovid restrictions, calling the government's decision to impose a lockdown as 'dictatorial'. In Vienna, some protesters against compulsory vaccination at a rally organized by a right-wing party called the "Yellow Star" ' was wearing. After taking office in October, Austria's Chancellor Alexander Schalenberg imposed lockdown restrictions on citizens who did not get the vaccine, criticizing the "shamefully low" vaccinations. Let us tell you that compared to France's vaccination (75%), only 66 percent vaccination has been done in Austria.