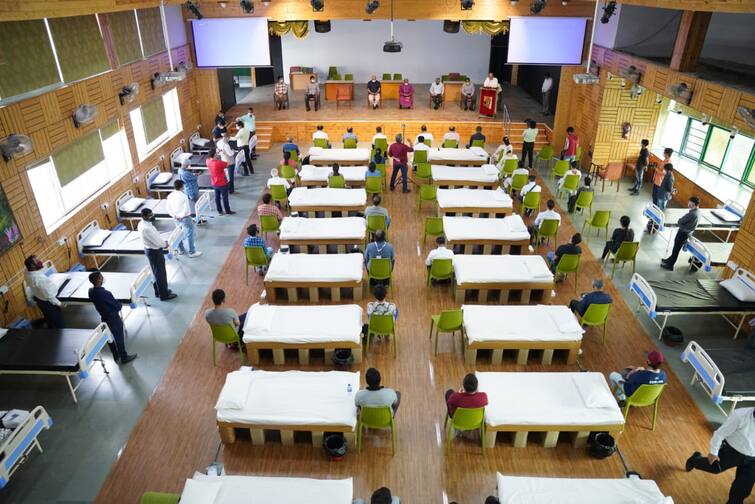 In Delhi, people are constantly struggling due to the shortage of beds for the treatment of Corona Infections. As such, a private school in Delhi has converted its auditorium into a corona care center.
Mount Carmel School in Dwarka is the first private school in Delhi to have a corona care center of 40 beds in its auditorium is. Delhi's Deputy Chief Minister Manish Sisodia on Monday visited the Victory William Corona Care Center of 40 Beds started by Mount Carmel School Society Dwarka.
Oxygen Beds at this Covid Center in Auditorium. All the necessary medicines are available including.
The special thing is that this Covid center in the school auditorium has oxygen beds, oxygen concentrator and all the necessary medicines. Deputy Chief Minister Manish Sisodia said that this corona care center can also be linked to any major hospital if needed.
He said that the founder of the school, Dr. V.K. Even after William's death a week ago, this step taken by Mount Carmel School in difficult times is very human. The beds, and other facilities at this center, give us confidence that we have the resources to fight this crisis.
Now there are only 300-400 beds left in hospitals
The Deputy Chief Minister said that today the whole world is going through a difficult time and the period from 22 April to 5 May was very difficult for Delhi. At this time, most cases of corona were occurring. The number of infected was continuously increasing. During this period, we increased the number of beds in hospitals from 6 thousand to 20 thousand. But we were struggling with lack of oxygen.
The information on the Corona app was that there are now only 300-400 beds left in hospitals. But now the corona infection rate in Delhi is decreasing. The beds are getting empty even in hospitals, it shows that we are slowly getting out of the crisis. The credit goes to the doctors and the Corona warriors.