ICC Rankings Jhulan Goswami : Jhulan Goswami, the great fast bowler of the Indian women's team, said goodbye to international cricket with full pride. In the last ODI series of her career, she made a clean sweep of England on her soil for the first time.
In her last match, she took two tremendous wickets to keep the Indian team on the path of victory. She also secured the best position in the ICC rankings that came after the last match and the completion of the retirement process. That is, Jhulan retired from international cricket with full gusto.
Jhulan Goswami in top 5 in ODI bowlers' rankings
Image Source : AP, Jhulan Goswami with teammates at the Lord's
Most of the cricketers announce their retirement from international cricket after reaching the downhill of their career. Now look at the first ICC rankings of women bowlers after the retirement of Jhulan Goswami. Indian fast bowler is at number five in this list with 698 points. This tells that even when the 39-year-old bowler decided to say goodbye to international cricket, there was still a lot of energy left in him to keep performing.
Jhulan Goswami's performance in the last series of his career against England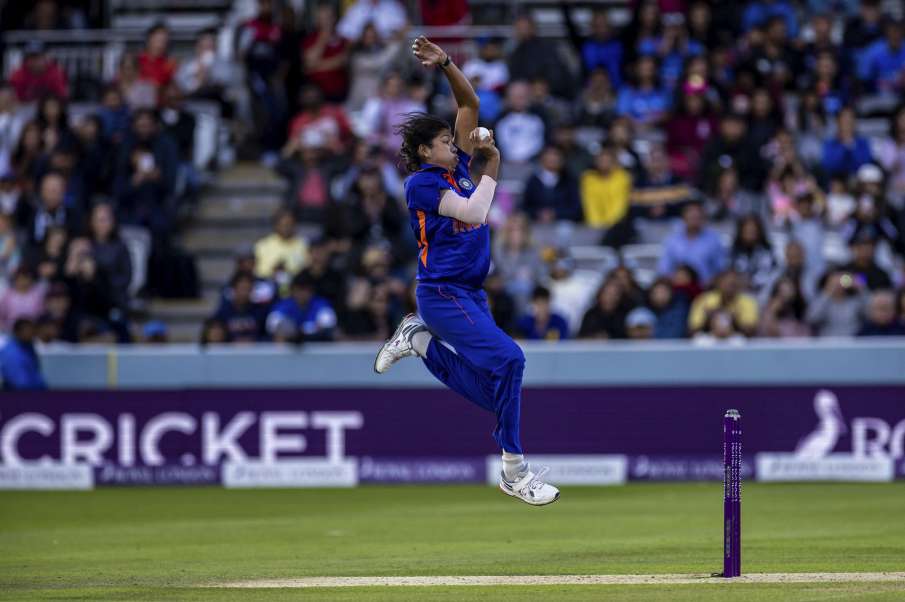 Jhulan Goswami had made everyone aware of his retirement plans before the start of his last series against England. Although there was nothing left for him to prove personally in this series, he put in full force. Bowling brilliantly, taking 3 wickets for just 3 runs in the 3 match series at an economy of 3. She was the fourth best performing bowler of the series.
Jhulan Goswami in top 10 in ODI all-rounders rankings
Jhulan has always been a strong presence in her career as an all-rounder. Although he got a chance to bat only once in three matches against England, he always made a significant contribution with the bat in his career. This is the reason why she finished ninth in the rankings of women's ODI all-rounders after her retirement.
Other Indian Cricketers in Top 10 Rankings
Apart from Jhulan Goswami, many more names are also included in the list of other cricketers included in the top 10 in the latest released women's rankings of ICC. In the batsmen's rankings, captain Harmanpreet Kaur is at the fifth position with 716 points. At the same time, star opener Smriti Mandhana is in the sixth position with 714 points.
In the bowlers' rankings, Jhulan Goswami is the best Indian player while Rajeshwari Gaikwad is ranked ninth. At the same time, in the women's ODI all-rounders, Deepti Sharma is at the sixth position, 3 places above Jhulan.