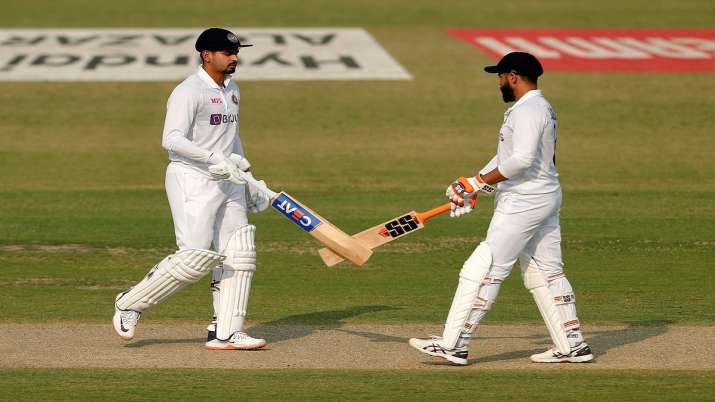 Kanpur| Test series between India and New Zealand has started. The first Test is being played here at the Green Park Stadium in Kanpur. Batting after winning the toss, India scored 258 runs for the loss of four wickets in 84 overs till the end of the first day's play. For the team, Shreyas Iyer (75) and Ravindra Jadeja (50) are frozen at the crease, scoring half-centuries. There has been a partnership of 113 runs in 208 balls between the two. At the same time, Kyle Jamieson made three successes for New Zealand. At the same time, Tim Southee got a wicket.
In the third session, Shreyas Iyer and Ravindra Jadeja batted brilliantly and added 102 runs in the team's account in 28 overs without losing a wicket. Any New Zealand bowler proved unsuccessful in breaking India's growing partnership.
Earlier, till tea time, Indian team batsmen Shreyas Iyer (17 off 55 balls) and Ravindra Jadeja (6 off 13 balls) added 154 runs to the team's account for the loss of four wickets in 56 overs. Jamieson dismissed Shubman Gill on the sixth ball after the lunch break, ending a 61-run partnership for the second wicket. Although Jamieson also troubled Pujara and Ajinkya Rahane, both of them hit a boundary each in their 34th over.
Rahane and Cheteshwar Pujara again hit a four each in the 37th over. But in the next over, Tim Southee dismissed Cheteshwar Pujara and sent him back to the pavilion. After Pujara's dismissal, Rahane hit some boundaries in the off-side.
With Shubman Gill (52 not out off 87 balls) coming out to bat at the crease, the Indian team scored 82 runs for the loss of one wicket till lunch on the first day of the Test against New Zealand at the Green Park Stadium on Thursday. On the other hand, supporting Gill, vice-captain Cheteshwar Pujara scored an unbeaten 15 off 61 balls.
New Zealand bowler Kyle Jamieson took his first wicket, in which he dismissed Mayank Agarwal (13). Mayank Agarwal was caught by Jamieson to wicket-keeper Tom Blundell.