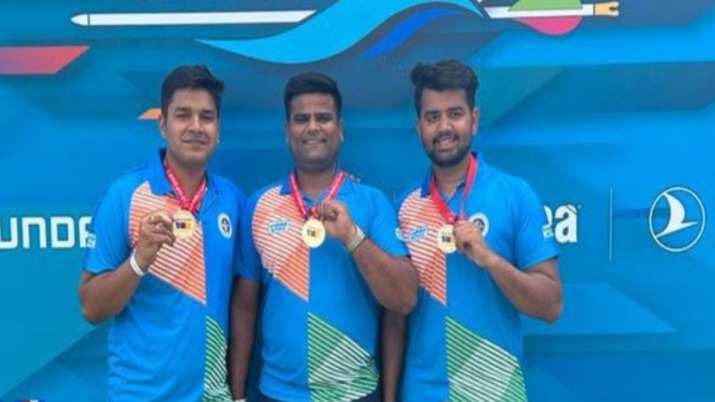 The Indian men's 'compound' archery team of Abhishek Verma, Rajat Chauhan and Aman Saini clinched the gold medal by defeating France by one point in a thrilling final of the first leg of the World Cup on Saturday. India, however, could not win the second medal in 'Compound'. The mixed doubles pair of Verma and Muskan Kirar lost to Croatia 156-157 in the bronze medal 'playoff'. In the men's final of the 'compound' team event, India went down 56-57 to their French rivals Jean-Philippe Boulch, Quentin Brar and Adrian Gontier in the first set.
The French team continued its good performance even after this and the Indian team was at one point trailing 113-116 by three points. The Indians then came back strongly and won the third set by a margin of 60-58 to take the total to 173-174. After this the Indian players did not look back and scored 59 in the fourth set while the French team could only score 57 points under pressure. In this way, India won the gold medal by taking a one point lead.
GOLD 🥇 for INDIA 🇮🇳.

🇮🇳's Compound trio @archer_abhishek @Rajat_archer
& @ArcherAmanSaini won 🥇 Gold Medal in #ArcheryWorldCup Stage 1 – #Antalya, #Turkey

Final Score 🇮🇳232-230🇫🇷

Congratulations to all..!!#IndianArchery #WorldArchery #NTPCArchery @ntpclimited pic.twitter.com/OiLVXMSIyl

— ARCHERY ASSOCIATION OF INDIA (@india_archery) April 23, 2022
The 24-year-old Saini, who won his first gold medal in the World Cup, said, "Mentally we were really strong today. We were just preparing for this competition. Asian Games are also going to happen this year in which we want to do well. Hope this helps us." The 'recurve' mixed doubles pair of Tarundeep Rai and Riddhi Fore will fight for the gold medal on Sunday. They defeated Spain 5-3 in the semi-finals.
Second medal also confirmed
The pair of Tarundeep Roy and Riddhi Four has made it to the mixed pair recurve final of the Archery World Cup Stage 1 tournament being played in Antalya, Turkey. With this, India's second medal in this competition has been confirmed. The fifth-ranked Indian pair made it to the title clash after a 5-3 win over Spain in the semi-finals. The pair will now face Britain's Briony Pittman and Alex Wise for the gold medal in the final on Sunday.