Another veteran actress has been entered in Kangana Ranaut's much awaited film 'Emergency'. Kangana has informed about this by sharing a new poster of the film. Kangana shared the poster and told that Mahima Choudhary will be in an important role in the film.
She will be playing the role of Pupul Jayakar in the film. Pupul was very close to Indira Gandhi. She was her friend, writer and trusted friend. She was Indira's friend from the age of 15. After becoming the Prime Minister of Indira Gandhi, she became her cultural advisor.
Sharing the poster of the film, Kangana Ranaut wrote, "Introducing Mahima Chaudhary, who is playing the character of Pupul Jayakar. Who kept the ups and downs, close and personal things of Iron Lady (Indira Gandhi) in front of the world. Pupul Jayakar is a friend, writer and trusted person. Hashtag Emergency." At the same time, Mahima Chaudhary has expressed happiness in joining the film.
Kangana Ranaut revealed the look. (Photo Credits: Instagram @kanganaranaut)
Sharing the poster of the film, Mahima Chaudhary wrote, "Excited and honored to get the role of Pupul Jayakar." Along with this, she has also thanked Kangana Ranaut. She wrote, "Kangana Ranaut you are really talented, fearless, brave and extremely talented and I am proud to work with you on Emergency."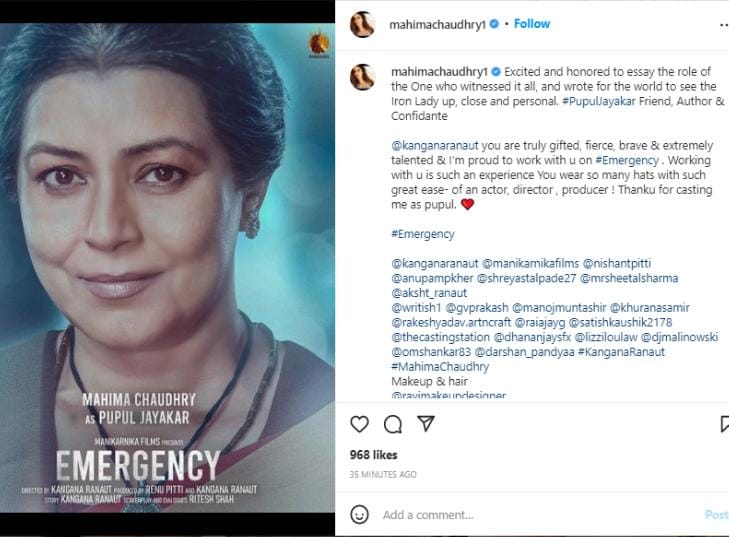 Mahima Chowdhary further wrote, "Working with you is such an experience that you can do everything with such ease – an actress, director, producer! Thank you for casting me as Pupul."