[ad_1]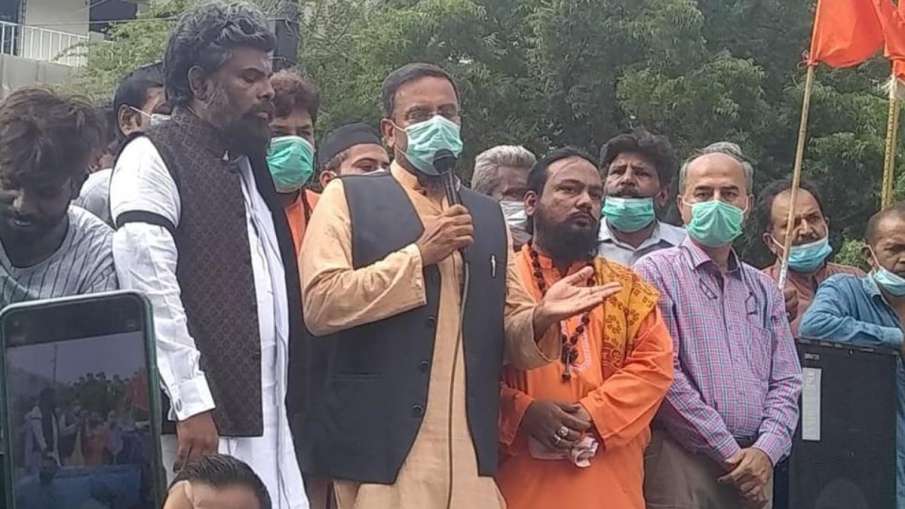 Karachi: There have often been reports of atrocities on Hindus and vandalism in temples from Pakistan. Recently too, the temple was vandalized in Rahim Yar Khan area of ​​Punjab province, after which the people of Hindu society are now raising their voice. On Sunday, minorities living in Karachi protested against the continuing atrocities. During this, slogans of 'Jai Shri Ram' and 'Har Har Mahadev' were also raised.
People from the minority community protested outside the Press Club in Karachi on Sunday. Apart from the Hindu community, people from other sections including Sikhs, Christians, Parsis were also in the demonstration. The protesters condemned the incident of vandalism in the temple in Rahim Yar Khan area. Along with this, raised voice against the atrocities on minorities. The protesters raised saffron flags and waved placards with 'We Want Justice'.
What did the people involved in the protest say?
Ramnath Mishra Maharaj, the chief priest of Karachi's famous ancient Hanuman temple, was also involved in the protest. He said that like Rahim Yar Khan vandalized the Ganesh temple, we strongly condemn it. He said that just as those who do bad things against Islam get the death penalty or life imprisonment, so should those who do bad things against our religion also get punished.
The priest said that now atrocities against Hindus have increased in Pakistan. He further said that 'our Hindu religion is being maligned. Objectionable things are being told about Hinduism in school books. Our appeal is that the government should take action on such incidents. At the same time, Mufti Faisal of Karachi also participated in this demonstration against the atrocities on Hindus.
Mufti Faisal said that 'I belong to Islam but I want to say that such a thing should not be done, which spreads hatred among communities. Even today Muslims are a minority in India and all live with peace. He said that 'We have many relatives living in different cities of India and they are all happy there.'
Significantly, in the past, a Ganesh temple was vandalized in Rahim Yar Khan area of ​​Punjab province of Pakistan, the video of which went viral on social media. After that there was a lot of controversy.
[ad_2]