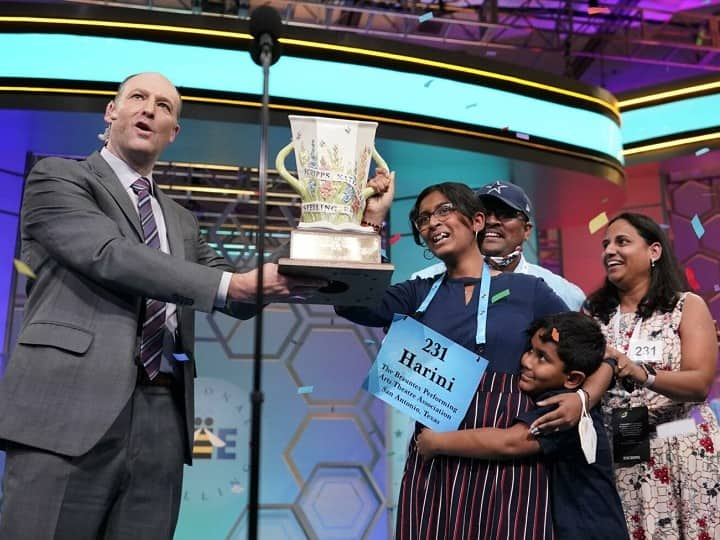 Spelling Bee 2022 Winner: Harini Logan of Indian origin living in America has become this year's Scripps National Spelling Bee 2022 Champion. She defeated Vikram Raju of Indian origin in the final. This match reached the spell-off ie tie breaker, where Harini won.
Harini is a resident of San Antonia, Texas province of America. She is 14 years old and studies in 8th standard. Harini got a tough competition from Vikram Raju in this competition. Vikram Raju is 12 years old and lives in Denver. He studies in 7th standard. In this competition between the two, when the match reached the spell-off, Harini spelled 21 out of 26 words correctly in 90 seconds, while Vikram Raju was able to spell only 15 out of 19 words in 90 seconds.
Harini will get a prize money of 38 lakhs
Harini got a prize money of about Rs 38.80 lakh for becoming the champion in this competition. Vikram Raju, who was at number two, got Rs 19.40 lakh here. Children of Indian descent dominated this competition. Here the children of Indian origin also won the third and fourth number. 13-year-old Vihaan Sibal at number three and Saharsh Vupala at number four.
Last year, a student of African origin became the champion
In the year 2020, this competition was canceled due to Corona. Whereas in 2021 it was made online. In this online competition, 14-year-old Zyla became the Avantgarde champion. She was the first student of African descent to win this competition.