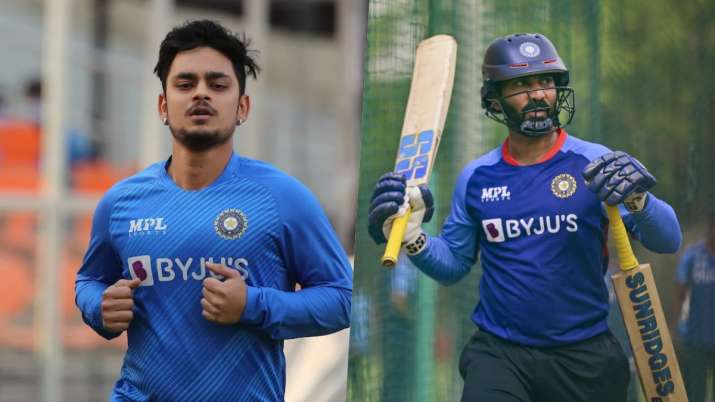 Team India performed strongly in the T20 International series against South Africa. They were defeated in the first two matches but after winning the subsequent two matches, they made a tremendous comeback in the series to level 2-2. Although no winner could be decided in the series as the last match was washed out in rain, players like Dinesh Karthik and Ishan Kishan have got their personal benefit from their excellent performances.
Karthik's tremendous jump in T20 rankings
Dinesh Karthik has made a tremendous leap in the ICC T20 rankings on the basis of his excellent recent performance. Team India's new superhit finisher has jumped 108 places in the batsmen's rankings and has come to the 87th position. At the same time, the new opener of the Indian team, Ishan Kishan, has taken a position lead in the latest rankings of batsmen.
Kishan scored 206 runs in four matches of the series against the Proteas with a strike rate of above 1501 and an average of 41, which included two half-centuries. On the basis of these figures of his four innings, this left-handed batsman has been ranked sixth in the rankings.
Babar remains on top, Ishaan is the only Indian in the top 10
Pakistani captain Babar Azam continues to top the rankings of T20 batsmen. At the same time, Ishan Kishan is the only Indian in the top 10 in the rankings.
Hazlewood remains on top, Chahal gains 3 places
Yuzvendra Chahal has gained three places in the rankings of T20 bowlers. Chahal, who took 6 wickets in the series against South Africa, has moved up from 26th, to 23rd position. At the same time, Australian fast bowler Josh Hazlewood remains the top T20 bowler. Afghanistan spinner Rashid Khan and Sri Lanka spinner Wanindu Hasaranga have gained a place each, Rashid has moved up to third and Hasranga has moved up to sixth position.