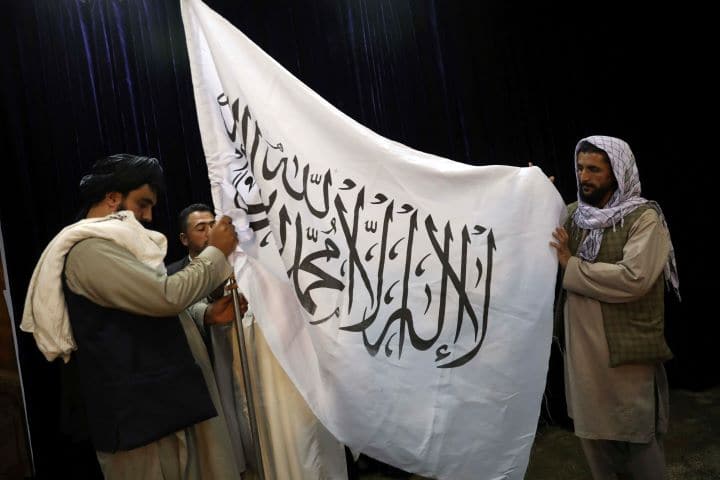 Taliban New Government: The Taliban on Tuesday appointed Mullah Mohammad Hassan Akhund as prime minister, announcing the cabinet of the caretaker government of Afghanistan. The cabinet includes top figures of the Taliban, who dominated the 20-year war against the US-led coalition and allies of the then Afghan government. In this, a leader of the Haqqani network, a globally designated terrorist, has been given the charge of Home Minister.
Taliban spokesman Zabiullah Mujahid said during a press conference in Kabul that in the "new Islamic government" Mullah Mohammad Hassan Akhund, head of the Rahbari Shura, the organization's powerful decision-making body, would be prime minister while Mullah Abdul Ghani Baradar would be deputy prime minister.
Sirajuddin Haqqani, the head of the Haqqani network and the son of anti-Soviet satrap Jalaluddin Haqqani, has been made home minister in the 33-member cabinet and does not have a single woman member. The Taliban had promised to form an inclusive government, but there is not a single member of the Hazara community in the cabinet.
Mujahid, who has been appointed deputy information minister, said Mullah Amir Khan Muttaki would be the new foreign minister in the interim government, while Sher Mohammad Abbas Tastikzai was made deputy foreign minister. Mullah Yacoub, the son of Taliban founder Mullah Mohammad Omar, will be defense minister. Similarly, Mulla Hidayatullah Badri has been made finance minister and Qari Fasihuddin Badakhshani will be the new army chief.
"The formation of the cabinet is not complete and it is only a caretaker cabinet," Mujahid said. We will try to involve people from other parts of the country as well. Acting Prime Minister Mullah Hassan, in a written statement, congratulated the people of Afghanistan for "the withdrawal of foreign forces, the end of the occupation and the complete independence of the country", reported Dawn newspaper.
According to media reports, the top Taliban leader Mullah Hebatullah Akhundzada himself proposed the name of Mullah Hassan as the new head of Afghanistan. In the last years of the previous Taliban regime, Akhund led the Taliban government in Kabul as interim prime minister.
Mullah Hassan belongs to Kandahar, the starting site of the Taliban and is one of the founders of the armed movement. He served as the head of 'Rahbari Shura' for 20 years and is considered close to Mulla Hebatullah. He served as foreign minister and deputy prime minister during the previous Taliban government in Afghanistan from 1996 to 2001.
Sirajuddin Haqqani's name is in the list of global level terrorists. America has declared a reward of $ 5 million on information about him. He was also allegedly involved in a plot to assassinate Afghan President Hamid Karzai in 2008, according to the US Federal Bureau of Investigation (FBI) website.