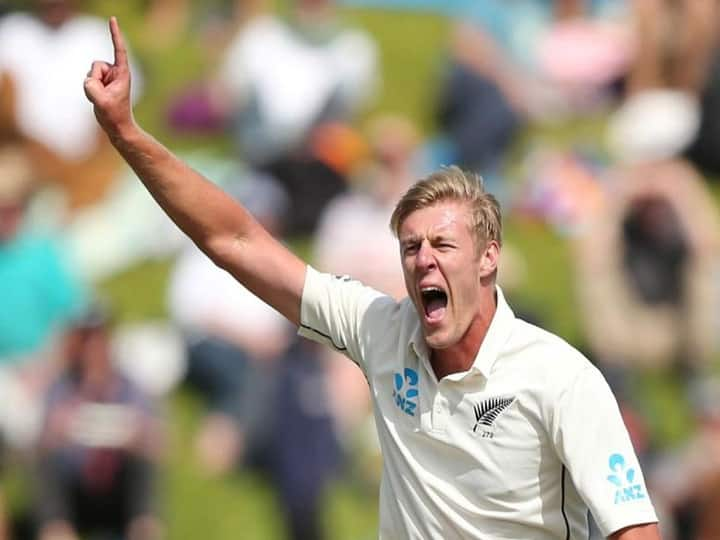 IND Vs NZ WTC Final: The final match of the ICC World Test Championship is to be played between India and New Zealand on 18 June. Team India may have made it to the final by staying on top of the points table, but due to the final in England, New Zealand's upper hand is being considered a bit heavy. Apart from this, New Zealand has proved that by defeating hosts England 1-0 in the recent two-Test series, they have managed to reach the final not by luck but because of their performance. The final match is mainly being seen as a competition between Indian batsmen and New Zealand fast bowlers. So let's talk about those players who can prove to be the biggest trouble for India in the final.
Kyle Jamieson
Kyle Jamieson made his debut against India last year during the ICC World Championship. Jamieson is touted as the biggest surprise package at the WTC Finals. Jamieson has proved to be extremely prolific in Test cricket so far. Jamieson has so far taken 39 wickets in 7 Test matches at an average of about 15 and these include taking five wickets in an innings four times and 10 wickets in one match. If seven matches are taken into account, then Jamieson's bowling average is one of the best three bowlers in the history of the last 100 years.
Tim Southee
Tim Southee, who has played 78 Tests, is New Zealand's most experienced fast bowler. The Saudis are known to have a strong grip on the swing. Since conditions in England are favorable for fast bowlers, Southee can become a problem for the Indian players with his swing bowling. In the first Test against England, Saudi proved that he was in excellent form by taking 7 wickets. Apart from this, team India captain Virat Kohli has been victimized 9 times in Saudi international cricket.
Trent Boult
Trent Boult is New Zealand's most experienced fast bowler after Saudi. Trent Boult is known for his outswing bowling and yorker. Bolt had troubled the Indian top order, especially Rohit Sharma, in the semi-final match of the 2019 World Cup. Another quality of Trent Boult is that he has the ability to dismiss the lower order batsmen very quickly through yorker.
Devon Conway
The opening was such a department where the New Zealand team seemed to be struggling a bit during the ICC World Test Championship. But in the recently concluded Test series against England, this problem of New Zealand also ended. New Zealand has got a new star in Devon Conway. Conway started his Test career with a double century. In the second Test as well, Conway played an innings of 80 runs, continuing his stellar form. Getting Conway out in the final can prove to be a big challenge for Team India.
Kane Williamson
New Zealand have got a big relief from Kane Williamson being fit before the final. Kane Williamson is New Zealand's most trusted batsman and he is currently at the second position in the ICC Test rankings. Williamson has scored three centuries including two double centuries in his last four Tests. Apart from fast bowlers, Williamson is also known to play spinners well.