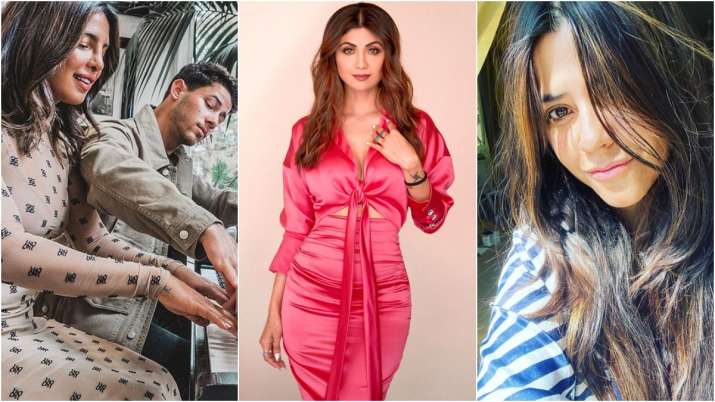 Priyanka Chopra has recently become a mother. The actress has brought the little guest home through surrogacy. However, she did not mention whether she became the mother of a son or a daughter. During her social media post, she mentioned that she is hoping that her privacy will be taken care of.
However, this is not the first time that film actors have resorted to surrogacy to become parents. Big names from Shilpa Shetty, Ekta Kapoor to Preity Zinta have welcomed their little guest to their home through surrogacy. Let's take a look at those artists whose house is buzzing due to surrogacy.
Preeti Zinta
In November 2021, Preity Zinta announced on Instagram that she and her husband, Gene Goodenough, have welcomed their twins – Jia and Jay – through surrogacy.
Shilpa Shetty – Raj Kundra
Shilpa Shetty and her husband Raj Kundra announced the birth of their second child, daughter Samisha in 2020. She had revealed that she too had opted for surrogacy for the birth of the child.
Tusshar Kapoor
Tusshar Kapoor as a single father welcomed his child Laksshya through surrogacy in the year 2016. Lakshya is the grandson of Jitendra and Shobha Kapoor.
Karan Johar
Like Tusshar, Karan Johar also adopted surrogacy in 2017 on the verge of becoming a single parent. He announced that he has welcomed twins – Yash and Roohi through surrogacy. Filmmakers often share posts on Instagram with their kids.
Sunny Leone
Another couple who opted to give birth through surrogacy is the pair of Sunny Leone and Daniel Weber. The couple welcomed twins in 2018.
Ekta Kapoor
Producer Ekta Kapoor has followed in the footsteps of her brother Tusshar and welcomed a baby boy through surrogacy. Ekta Kapoor's son's name is Ravi and he was born in the year 2019.
Shreyas Talpade-Deepti
Shreyas Talpade and his wife Deepti had their first child after 14 years of marriage, they welcomed their child in the year 2018 thanks to surrogacy.
Shahrukh Khan – Gauri Khan
King Khan surprised everyone when he and his wife Gauri Khan shared the news about their third child AbRam in 2013. The couple also opted for surrogacy.