[ad_1]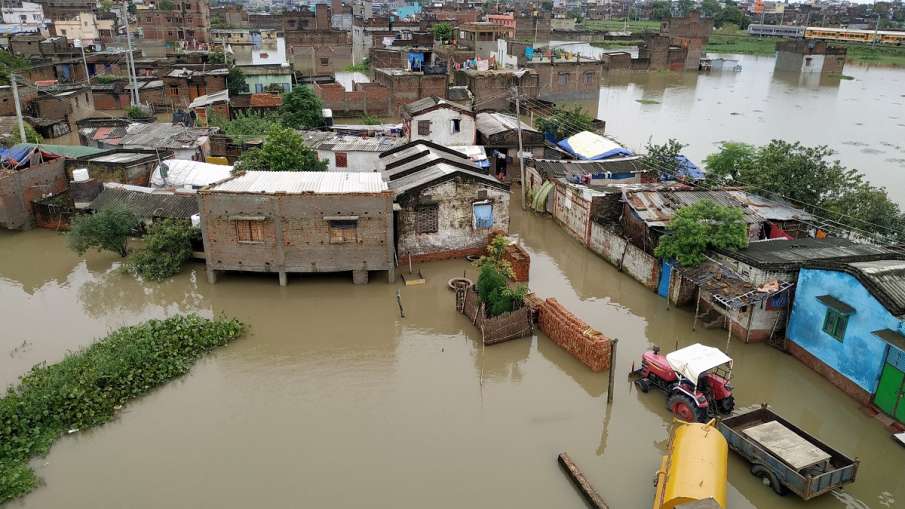 New Delhi. North India witnessed sultry weather on Friday, while parts of Rajasthan were flooded with 1.5 lakh cusecs of water released from dams following incessant rains. Heavy rain has been forecast in Madhya Pradesh after a week's end of rain
A teenager died after the wall of a house collapsed following incessant rains for the past few days in a village in Jhalawar district of Rajasthan. Heavy rains have affected normal life in isolated areas of the Hadoti region of the state. The Khanpur, Sarola and Asnawar areas of Jhalawar are already facing a flood-like situation due to rains for the past six days, but the situation worsened after 1.5 lakh cusecs of water was released from two dams on Friday morning. Khanpur received the highest rainfall of 172 mm in a day. The Meteorological Department has predicted heavy to very heavy rain at one or two places in Sawai Madhopur, Dholpur, Karauli and Baran districts on Saturday.
Humid conditions prevailed in the national capital and the maximum temperature was recorded at 36.7 degrees Celsius. The humidity level ranged from 88 per cent to 55 per cent.
Haryana and Punjab also experienced similar weather as Delhi. Gurugram recorded a temperature of 34.9 degree Celsius. In the last 24 hours, light to moderate rain was recorded at isolated places in Uttar Pradesh, while some places experienced thunderstorms. The Meteorological Department said that Deoband (Saharanpur) recorded five cm, Gaighat (Ballia) and Prayagraj four cm each, Salempur (Deoria) and Muzaffarnagar three cm each and Lalitpur two cm. The highest temperature in the state was recorded at Varanasi (BHU) observatory at 35.7 degrees Celsius while the lowest temperature was recorded at Etawah observatory at 23.
6 °C was recorded.
There has been some respite from the torrential rains in Madhya Pradesh for the past few days. In the last one week, 12 people died due to floods in Gwalior and Chambal areas. However, the India Meteorological Department (IMD) has issued a warning of torrential rains with 'Orange' and 'Yellow Alert' in 17 districts of Madhya Pradesh. IMD has predicted 64 to 204 mm of rain under 'Orange Alert' at different places in five districts of Vidisha, Raisen, Rajgarh, Guna and Ashoknagar. Apart from this, 'Yellow Alert' has been issued for Sehore, Shajapur, Agar-Malwa, Neemuch, Mandsaur, Shivpuri, Datia, Seoni, Sagar, Tikamgarh, Niwari and Sheopur.
Madhya Pradesh Chief Minister Shivraj Singh Chouhan called up Union Home Minister Amit Shah to request help to rescue 50 people trapped in floods in Ashoknagar district of Gwalior division of the state. At least six districts in West Bengal are facing floods due to release of water from Damodar Valley Corporation dam. Thousands of villagers of Hooghly district have taken shelter in relief camps. Due to cyclonic flow, heavy rain is also expected in Jharkhand and Bihar on Sunday. The IMD said that in the next five days, there may be light to heavy rainfall at some places in Uttarakhand and Uttar Pradesh.
[ad_2]