Nysa Devgan may be away from Bollywood, but she is being discussed a lot on social media. Bollywood actors Ajay Devgn and Kajol's daughter Nysa are enjoying vacation with their friends in Greece these days. Nysa's friend Orhan Awatramani has shared photos of the trip with Nysa on social media. The pictures of Nysa are going viral on social media.
Orhan Avatramani shared a glimpse of the fun-filled trip by sharing pictures with Nyasa Devgan on his Insta story. It is seen in these pictures that Nysa is seen in party mode with her friends. Nysa looks gorgeous in a white colored front to front tie shirt with black floral print Thai high slit skirt.
(Photo Credits: orry1/Instagram)
Nysa Devgan is spending happy moments in Greece with her friends including Orhan and Vedant Mahajan.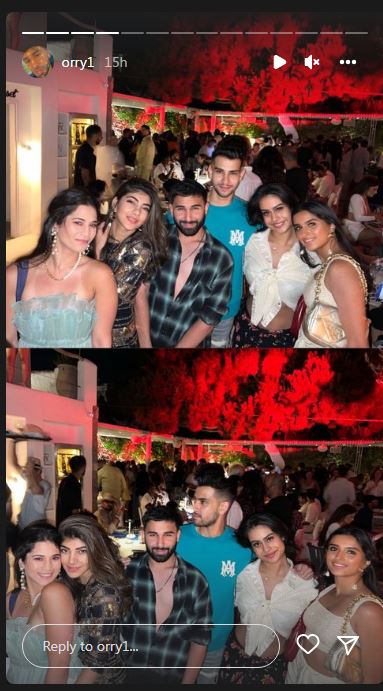 A few days ago, Nysa Devgan's friend Vedanta Mahajan shared many pictures. At this time Nysa went on a Spain trip with them. In this picture, Nysa is looking very cute while posing for the camera.
Who is Orhan Awatramani?

Nysa Devgan is often seen having fun with these friends. If media reports are to be believed, Orhan is an activist who has a good friendship with many Bollywood celebs. Orhan is not only a good friend of Nysa but also of Saif Ali Khan and Amrita Singh's children Sara Ali Khan and Ibrahim Ali. Orhan is also seen in their family functions.
Orhan is also a friend of Sara-Ibrahim

According to media reports, Sara and Orhan have studied together at Columbia University. Apart from this, Orhan also has a friendship with Janhvi Kapoor. If you look at Orhan's Instagram, he often shares pictures while partying with Bollywood celebs.
Nysa Devgan is currently studying in Switzerland. Recently, on her birthday, Papa Ajay Devgan, while wishing her birthday, had told her sweetheart to be special for herself, while mother Kajol also showered love on her daughter.