Urfia Javed has again come into the discussion about her latest Instagram post. She has shared 3 pictures. She is topless in these pictures. In these three pictures, it can be seen that Urfi has covered her breast with silver work. In these pictures, Urfi can be seen giving two different poses. While sharing these pictures, Urfi told that she has used silver work. She wrote, "Illuminating, used silver work for this."
Along with the pictures of Urfi Javed, 'FIR' on this post. The comment of fame Kavita Kaushik has also caught the attention of the people. Kavita remembered Kaju Katli after seeing these pictures of Urfi. Kavita wrote 'Aye Kaju Katli' in the comment with a loving emoji in her eyes. At the same time, Naaz Joshi wrote wow with a heart emoji.
Kavita Kaushik's comment on the pictures of Urfi Javed. (Photo Credits: Instagram @urf7i)
Netizens also reacted to this post of Urfi Javed. Many people also trolled her and advised her not to share such photos. Urfi also shared a similar picture on her Insta story and confirmed to people what it is called. She wrote, "This is called silver work, isn't it?"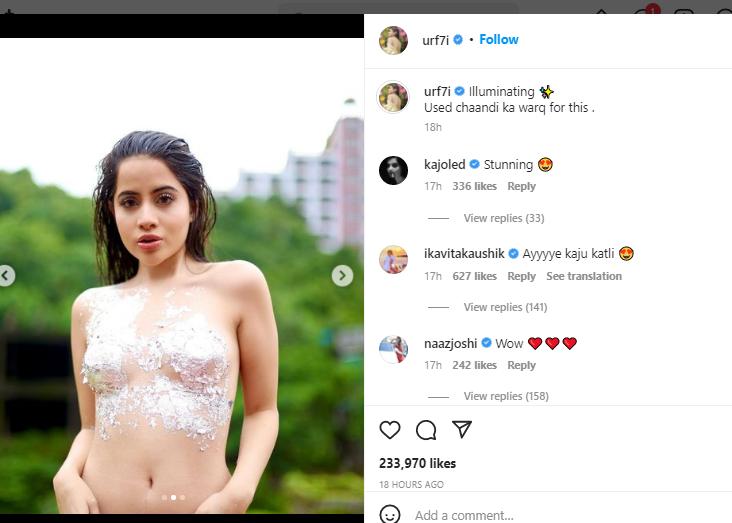 Urfi Javed shared the video
After this, Urfi Javed shared a video on his Insta story. The caption of this video read, "When you live near Urfi Javed's house." In this 28-second video, it is shown that a man goes to a sweet shop to buy a packet of cashew katli. The shopkeeper gives it, but silver work is not visible in it. The person asks the shopkeeper that where is the silver work in it. The shopkeeper says that a madam had come.
Netizens made these comments
Netizens have commented extensively on these pictures of Urfi Javed. One user wrote, "You have left Mia Khalifa behind." Another user wrote, "Behen mat kar aise please hum sharif ghar girls ki mat waat laga." One user wrote, "What will you be in the fan dress competition? Urfi Javed-Barfi"