Bollywood veteran filmmaker Sanjay Leela Bhansali's most awaited music album 'Sukoon' has been released today. Let me tell you, it took him almost two years to make this album. Sanjay has presented this album in honor of Queen of Melody Lata Mangeshkar. Consisting of 9 songs, the album is reminiscent of the good old love songs, making it relatable to today's youth.
The songs in this album include 'Ghalib Hona Hai', 'Tujhe Bhi Chand', 'Karar', 'Dard Pattharon Ko', 'Gham Na Hone', 'Har Ek Baat', 'Muskurahat' and 'Siva Tere'. Popular singers like Rashid Khan, Shreya Ghoshal, Armaan Malik, Sahil Hada, Papon, Pratibha Baghel and Madhubanti Bagchi have come together and curated this special album. Every melody of 'Sukoon' is special as well as unique in its own way.
According to media reports, all the songs of this album are available on all leading apps like YouTube Music, JioSaavn, Spotify, Hungama, Amazon Music. 'Ghalib Hona Hai', the song will bring out a very different side of Armaan Malik as he expresses the deep feelings of a lover. Song Lyrics by A.M. Written by Turaj.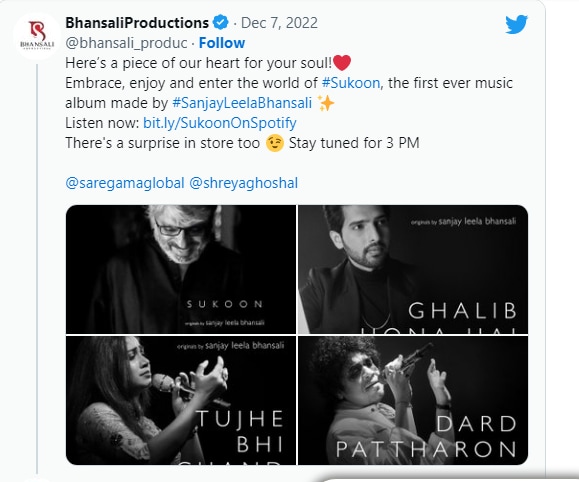 Talking about his song, Armaan shared, 'I have dreamed of doing a work with him for a very long time and finally the world will get to experience this audio-visual treat! Sanjay sir has discovered a very different side of me and I am glad that he has worked hard for me to give my best.'
'Tujhe Bhi Chand' and 'Karar' have been sung by Shreya Ghoshal. Papon has lent his voice to the song 'Dard Pattharon Ko'. The lyrics of the song have been penned by Kumar. 'Gham Na Hone' is by Rashid Khan. He has filled magic with his voice in this song. Song lyrics by A. M. Turaj has written. (Input also from IANS)