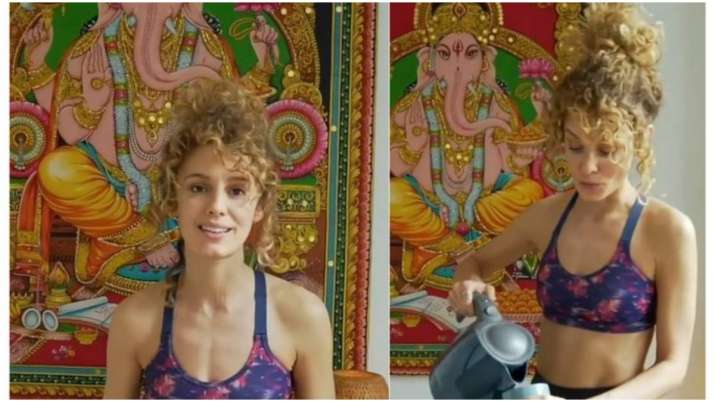 Esther Acebo, who played the role of 'Stockholm' in the Money Heist web series, came into the limelight due to a special reason. Actually, a big picture of Lord Ganesha was seen in Esther Acebo's house, which is becoming increasingly viral on social media.
Recently, in a video of the actress, the idol of Lord Ganesha was seen behind her, seeing which Indian fans are very happy and everyone is making this photo very viral.
Proud moment for India ❤️

Spanish actress @EstherAcebo to international fame for her role as Mónica Gaztambide aka #Stockholm in the hit @netflix series #MoneyHeist. who is proudly displaying vedic pictures of lord #Ganesha at her home in one of her video pic.twitter.com/i3HAq92iri

— 𝐓𝐇𝐄 𝐔𝐍𝐒𝐓𝐎𝐏𝐏𝐀𝐁𝐋𝐄 𝐖𝐈𝐍𝐆𝐒 (@the_wings_2002) January 5, 2022
Esther Acebo is very active on social media, she often shares her pictures and videos which go viral very fast. In the recently shared video, she is seen working with a big picture of Ganesha behind her. Due to this, everyone has been thinking that there is a statue of Ganesh ji in the house of the internationally renowned actress.
Many social media users are sharing the picture of Esther Acebo and calling it a matter of pride for India. While sharing the photo of the actress, a user wrote in the caption – Proud moment for India. Spanish actress Esther Acebo, who shot to international fame in the hit Netflix series Money Heist, proudly displayed pictures of Lord Ganesha in one of her videos.
Let us tell you that Esther has got a lot of popularity from the Netflix show Money Heist. Her character's name in the show was Monica which was well-liked. In addition to Money Heist, he has acted in Esther Andal o Demonio, Emtes de Perder and the film Los Ensantados.