Shamita Shetty Break Up : Bollywood actress Shamita Shetty and her boyfriend Raqesh Bapat The paths have diverged. By sharing a post on her Instagram story, Shamita has informed the fans that both of them have broken up. This announcement of Shamita is definitely going to break the hearts of her and Raqesh Bapat's fans.
A few days back also it was reported that something is not going well between Shamita and Raqesh and both have separated, although at that time the actress had denied those reports and said that both are still together, but now The actress herself has announced that Raqesh Bapat and he have a breakup.
Sharing the post on her Instagram story, Shamita Shetty wrote, "I think it is important to clarify this. Raqesh and I are no longer together but this beautiful music video is for all the fans who have given us so much love and support. Keep showering your love on us like this always. Love and gratitude to all of you."

Rakesh Bapat also wrote a post…
Raqesh Bapat has also written a post on his Instagram story announcing the breakup with Shamita. Raqesh wrote, 'I want to tell you all that Shamita and I are no longer together. Destiny introduced us in very difficult circumstances. Many thanks to the Shara family for supporting us so much and giving us so much love. I know that hearing this will break your heart, but I hope you guys will keep showering love on both of us separately. Your support will always be needed. This song is dedicated to all of you.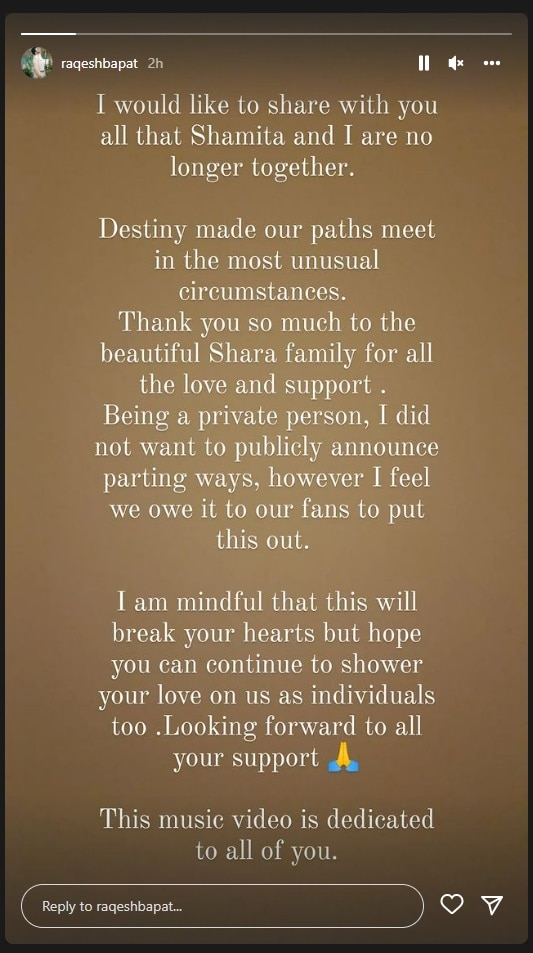 Let us tell you that Shamita Shetty and Raqesh Bapat's love story started with 'Bigg Boss OTT' which started in August last year. After that both were also seen together in 'Bigg Boss 15' for some time.
Both were seen together many times even after coming out, although both were not seen together for the last few days, so people suspected that something was not going well between the couple, and finally now Shamita has told that both of them are The breakup has happened.