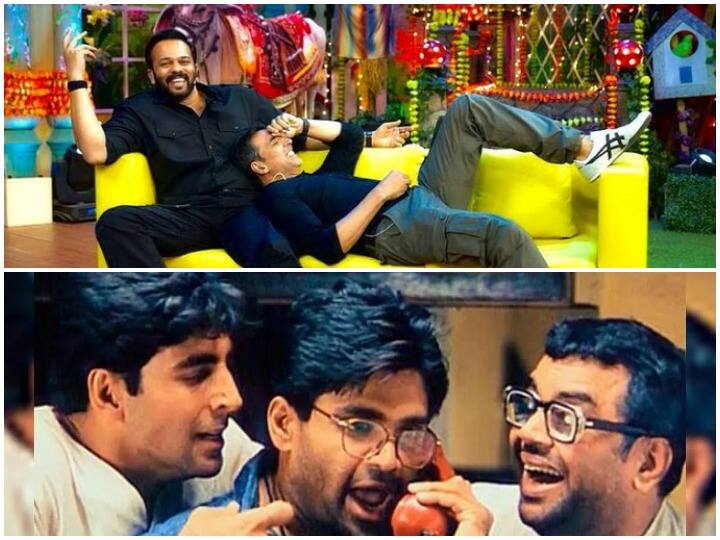 Sooryavanshi Promotion: The buzz of the most awaited film 'Sooryavanshi' to be released this Diwali is being seen in every reality show. Film directors Rohit Shetty, Akshay Kumar and Katrina Kaif have now fully engaged in the promotion of the film. Meanwhile, Rohit Shetty has shared a picture of the promotion on his Instagram, in which he himself is sitting on a yellow sofa while Akshay is seen laughing lying on his lap. With this picture, Rohit has written a very tremendous caption, which the fans are very fond of. Rohit Shetty, who has a tremendous sense of humour, wrote- 'After seeing the picture, when Raju knows that the money is really going to double in 25 days.'
Rohit Shetty knows the film will be a hit
Akshay and Rohit are working together for the first time through the film Suryavanshi. But Rohit knows the popularity of the film superhit film Hera Pheri. In which Akshay's character's name is Raju. Rohit has also told through this caption how confident he is about this film being a superhit. So far almost all the films of box office king Rohit Shetty have been super duper hits in terms of earnings. In such a situation, not only the team of the film but the entire industry has high hopes from this film that it will bring the audience back to the theatres.
Rohit and team Suryavanshi engaged in promotion
Rohit Shetty is leaving no stone unturned in the promotions of the film Sooryavanshi. He had arrived with Katrina in Ranveer Singh's show The Big Picture. Apart from this, along with Katrina, he appeared on Salman Khan's show Bigg Boss 15. Now seeing the photo, it seems that Akshay and Rohit have gone to Kapil Sharma's show for the promotions of the film.
Why is there so much hope from Suryavanshi?
Well, the excitement about the film Sooryavanshi, which will be released on November 5, is also high because in this Sooryavanshi will be seen fighting Karpashan in Mumbai and Singham and Simmba will accompany him in this. Ajay Devgan and Ranveer Singh will be seen doing strong cameos in the film. Along with this, there is another reason for excitement that Akshay Katrina, who was once a hit couple in the film, will be seen romancing back.