Udaipur Tailor Murder case: The brutal murder of Tailor Kanhaiyalal in Udaipur, Rajasthan has shocked the whole country. This killing in broad daylight has also terrified the people. This incident is being condemned everywhere. Bollywood celebrities are also constantly reacting to this massacre. Condemning this incident, Shabana Azmi strongly condemned it, while singer Lucky Ali is demanding justice for the deceased Kanhaiyalal.
Bollywood's legend actress Shabana Azmi has raised her voice on this serious issue. On Twitter, Shabana wrote that I strongly condemn this brutal murder in Udaipur. The culprits of this murder should be punished severely. There is no place for violence in the society.

On the other hand, singer Lucky Ali has criticized this murder in the name of religion and demanded justice for Kanhaiyalal. Lucky Ali wrote in a Facebook post, 'Killing one person is like killing the whole of humanity. Muslim punishment should be imposed on them. Just like they have sinned in the name of Islam.
Anupam Kher has expressed his feelings in just three words while tweeting on this incident. Wrote 'Frightened, sad, angry.'

Whereas the director of 'The Kashmir Files' Vivek Agnihotri has shared the sketch of Kanhaiyalal and tweeted 'It is becoming impossible to become a true Hindu and survive in a Hindu-space. To survive, either become an urban naxal or become anonymous or die.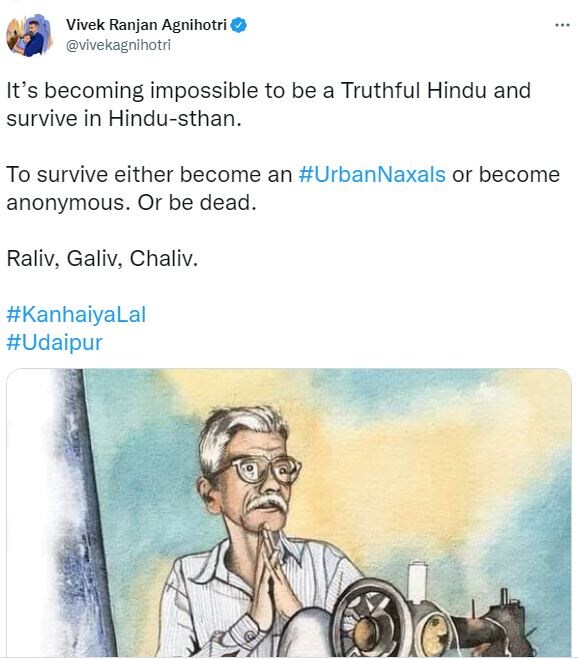 On the other hand, Ranvir Shorey has called this massacre a wakeup call.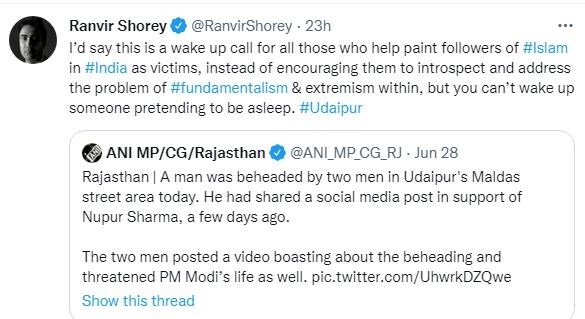 Ashok Pandit tweeted, 'The entire Hindu population blames OIC for Kanhaiyalal's murder. OIC should take responsibility for this brutal murder'.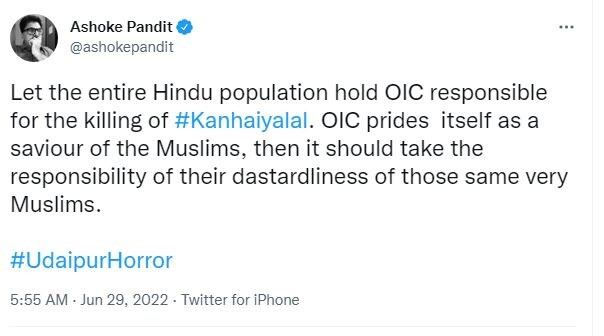 People across the country are angry over this Talibani massacre in Udaipur. Apart from Bollywood, TV celebs have also expressed grief and displeasure over this violence.