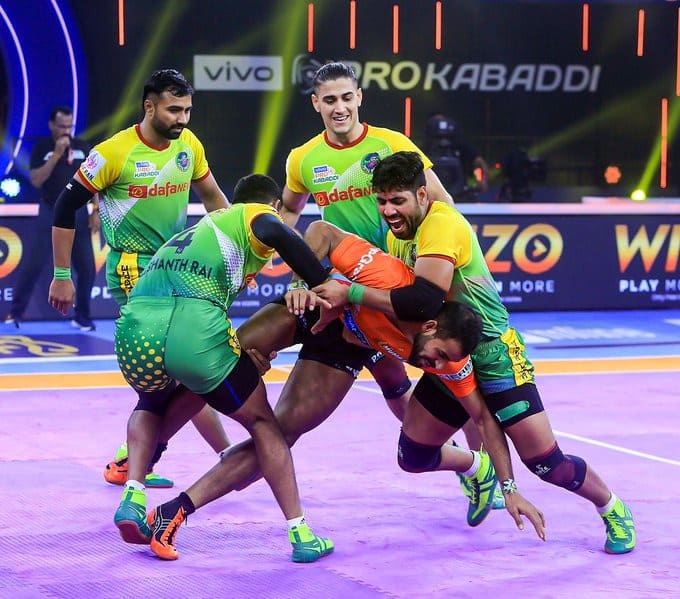 Pro Kabaddi league Season 8, Patna Pirates vs U Mumba, Patna Pirates defeated U Mumba 43-23 in the 47th match of Pro Kabaddi League season 8 played at Sheraton Grand Whitefield in Bangalore on Tuesday. With this win, Patna Partners have made it to the top of this season for the first time. This is Pirates' first win against Mumba since season 5. Neeraj Kumar got 8 tackle points, while Mohammadreja also completed his high-5. Abhishek Singh was the player to get the most raid points from U Mumba, while Patna captain Prashant Rai and Sachin Tanwar got 7-7 raid points.
Raiders neutralized in front of pirates' defense
U Mumba captain Fazal Atrachali won the toss and chose the court and from Patna Pirates, Monu Goyat made the first raid but could not play the account. Prashanth Kumar Rai took the first point of the match by dismissing two defenders in the same raid. Mohsen Maghsodlou opened the account of U Mumba with a bonus. Sachin Tanwar took Patna by 6-1 with two points. U Mumba was all out in the sixth minute and the Pirates took a 10-3 lead. After this, U Mumba's defense made a great comeback and made some excellent tackles, but Patna's defense was consistently making successful tackles and at the end of the first half, Patna Pirates were ahead 19-9.
Neeraj and Mohammadreja complete high-5
At the beginning of the second half, Patna Pirates took a 23-9 lead by all outing U Mumba once again. After this both the teams put some brakes on their pace. Mumba kept trying to make a comeback but Patna's defense was performing brilliantly today. Neeraj Kumar completed his high-5, then Mohammadreza Chiyaneh also completed his high-5 and took the match away from the grip of Mumbai. Last 4 minutes of play was left and Patna Pirates were ahead 35-21. After this, the Pirates took a 41-23 lead by making two consecutive super tackles. In the last raid, Mumba did not get any points and Patna Pirates won the match 43-23. Pirates' first win against Mumba after 5 years.